Thursday, September 29th, 2005
---
5:54 pm
- Just needed to write
My senior year, this is suppose to be one of the best year's of your life, the year when you are suppose to just be friends with everyone and have a ball, but you can't be friends with people you've never liked. This is probably the scariest year of your life in all reality this is the last year of your life you really get to diside am i going to be a fuck up and do nothing with my life or really go somewhere, do something and be someone. This is when people decide am i a college person? I'm so scared of this year to end because i don't no where i want to be in 5 years but i can tell who i want to be with mike, and i want to still be friends with 3 main people Liz, Katie, and Nicole, other then that i draw a blank, i can't be what my mom wants me to be and i never will i can't be my sister. In my moms eyes she used to be perfect of course not any more now im the good kid, but what yeah gonna do. I'm going to try my best to just have fun but its hard when i'm one of those people that over think everything, i just want things so badly i guess. I just want me and mike to be that perfect couple in my eyes we kind of ..are i mean what problems do we really have in our lives right now, none. I don't want to lose him he is such a great person, no one really knows people don't look deep enough in to people to ever see any one. Mike is such an inspirational person i can't even explain he's been threw more shit then anyone i know, he is such a brave person and so strong because if i was him i would be dead right now he has gone threw to much for me to be living, and even though he has all those problems he still finds the time to help me with mine and care for me. you know i do complain when he does things that bug me like not saying I love you and just saying too, or hanging out with his friends and not me, but then when i really think about it thats not fair because he does so much for me i feel so selfish when i get mad at him because its not right. Because doesn't acutally do anything wrong to me sometimes wrong can be the littlest thing and its not fair to be like that towards people, they don't deserve me being all bitchy towards them just because they said something wrong unless you do something that really would be a reason to get mad i have no right. So i'm sorry for getting mad at stupid things i'm gonna try my best not to but its hard to change a person after so many years. back to Mike of course lol No one is ever gonna get the passion i have for this kid ever never and if we break up for good (knock on wood) and years later and i get married and have kids and i am the happiest person in the world and i love my husband and i will always love mike there is nothing he could do that would make me stop loving him because like they say there is nothing like your first love, and i will never forget him and i dont ever want to have to, because he really is my life and what i need he is good for me he has taught me so much in life i am who i am because of him. I dont really want to know where i would be if i wasn't with him i feel like i'm a stronger person when im with him. I feel so safe when im with him like nothing will ever hurt because he is like my force feild always protecting me. Sometimes its hard for me to remember that he has a weird sense of humor like calling me fat i know he doesn't mean it thats just his way of having fun and he brings laught to our realtionship and you always need laughter if you don't have someone that can make you laugh then you have nothing, and if you spend more time fighting then you do laughing then you just need to get away from that person because i watch these couples fight every two seconds about the dumbest shit and i think to my self how can you possiably think you love this person! all you do is argue thats not love and it never will be no matter how hard you try to make it be. you will never be truly happy. I can honestly say that in the 2 years and 7 months we have dated we had 1 real fight and it was the most scariest horrifling thing i ever witness to see the person i loved so much mad at me killed me inside and i never wanted to see him like that ever again becaus ehe is prettiest when he smiles, and that was the last time we ever fought and i hope to god it wlil be the last time we ever have to fight because we just don't do well when fighting. We bicker like everyday but i bicker and he sits there and doesn't really fight back. and truthfully thats the way i like it. MIke gets me he just gets me he gets all my corky things and he just understands me like no one else, he have this connection like no one else,i feel lucky to have someone understand me because alot of teenagers don't and i'm lucky enough to. he is my best friend i tell mike everything if im mad at my mom he knows, if me and my sister fight he knows and he helps me threw my problems he just doesn't ignore me he always wants to know more, and he might not be interrested but he acts like he is and trys to always understand where i'm coming from. If i could have any man in the world ANY man i would for sure pick mike becaus ehe is just perfect to be everything about him even his inperfection are perfect. I just want people to know that after all this time i am still happy and i want people to know that mike is more then just a tough guy he is everything to me.I'm so in love and sometimes it does scare me but this is ajourney and for once i just want to take it and not be afraid to be my self and just go with it because i am scared of everything and i always hold back on everything because im always scared someone is judging me becaus eMike would never judge me to him im just his girl friend who he loves no matter what, and with him im comfortable and i just never have to worry about being afrad because when i am he is there and i know he is always gonna be there he is like my night and shinning armor he just means the world to me and i could never thank him enough for giving everything he's given to me and i know no one will ever understand how i am feeling at this very moment i just always wanna be this happy please god just let me always be this happy and in love. I have no idea why i wrote this and i really don't expect any of my friends to acutally read the whole thing sometimes you just need to write and just write because if you don't you feel like you aer gonna blow up and today that is how i felt i just felt like i needed to just talk and i would of wrote it but that would of cramped my hand i really like typing because i can type fast lol Im glad i have some where to just write and never feel like i have to stop because i dont give a fuck if anyone ever reads this lol its just something i needed to write for my self.

Always and Forever Amanda

current mood:
content
Tuesday, September 6th, 2005
---
7:24 pm
- la la la
Labor day was probably the best ever me and Mike had soo much fun and i no he really liked getting away from work we just had alot of fun together so it was nice we got so close bceause he took care of me when i threw up :) lol i love that kid so much hes amazing.

I sat with katie at lunch today it was sooo fricking sweet i miss that girl and it was fun just to sit there and talk about people with her:):):)

Got to talk to Liz on the phone today to! and her stupid ex is trying to beat up baby luke and i just ain't having that what a fag i hope he dies lol

and i got to hang out with Mikey today :) he is gonna be selling his car and getting a thunderbird his dream car so im sooo thrilled bout that:):)

Love Amanda

current mood:
happy
Tuesday, August 16th, 2005
---
5:11 pm
- i never update anymore!
i never update anymore i hate that lol i wish i still did like every other day or what note...nothing new really hmm my parents went camping so i hung out with mike from wednesday till sunday we had soooooooooooo much fun:):):) then tuesday night we hung out till like 3 in the morning we've just been haveing so much fun with eachother its like we are getting back to the way we used to be but its better we laugh alot:) i love it so much he is wonderful!!! i got my senior pictures today well just the proofs now its the hard part of picking which ones.. i am sorta sad because i feel like they are pretty you no like my hair isn't perfect and i look chubby in the face and my eyes to small so i was more bummed out and also my sisters were SOOOO PRETTY with her long hair and her perfectness and i dunno can't help but compare her amazing pictures to my not so amazing pictures lol maybe ill take some pictures of em and put em on here as a preview if liz will let me us her little thingy to put them on here. Right now im just bored me and liz were gonna hang out but shes gotta get some shots which is cool now i just gotta be bored all night because i know Mike will hang out with his friends which is cool but it still leaves me lonely at night:( can't say i didn't try to find something to do though. School is starting soon..yuck i really dont want to go back but at least its only for 4 days then off to labor day with my family and mikey! which is going to be awesome i hope:) well im gonna go love ya'll

Love Amanda

current mood:
creative
Tuesday, July 19th, 2005
---
7:07 pm
- la la la
i've been sick since i got back:( i had the worst sore throat ever!!!! it is much better today though but this morning i felt like my chest had a 50 pound weight on it but it feels better now:) yesterday i spent the day with mikey:) we had so much fun we went bowling i almost won i was really close:) so we had a lot of fun we stayed up like super late to lol we are back together:) my parents are leaving for vegas on the 28th so i am spending the weekend at mikes which should be fun he is stuck with me from thrusday till monday haha but he will have fun! i hope my parents have a good time in vegas they deserve to have fun. hmmm i thought i had more to say but i guess not!! love ya'll

Love Amanda

current mood:
cheerful
Friday, July 15th, 2005
---
4:27 pm
- Best Camping EVER!
I had so much fun camping! it was awesome me and liz were hit on EVERYDAY we were there that is 7 days! it was funny, we ate corn from a trash can, stole apple and cherry pies and Pop lots of pop! lol walked in towels naked, heared by dad pee behind our camper then watch him fall on the floor laughing and listening to him PRETEND to hump my mother at night! it was crazy haha, took liz to her first drive in movie seen the war of the worlds and i hide ni the shoulder like the whole time it was scary, seen 4 shooting stars! Ran up a very LARGE PHONE BILL lol made guys like there jobs a little bit:) liz burned like a mother haha then she was really itchy, spit seeds in the mauis mouth from a distance lol, won some jackpots:)i threw up! rod the BAT which hurt like hell and was scary because it went backwards and i am sure there are more but here are my pictures that i took





me in the car ride there:)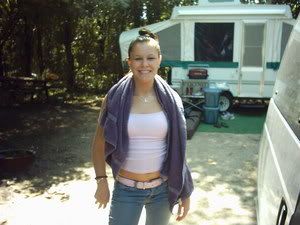 Me and liz tried to die my hair blonde...it did NOT work lol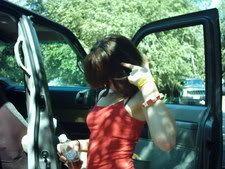 This is when we put some of the dye in liz's hair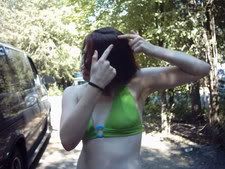 and thats how hers came out..can't see the difference haha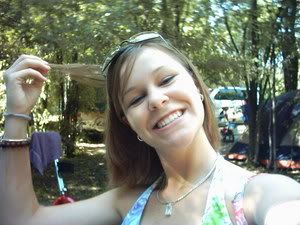 and thats how mine turned out lol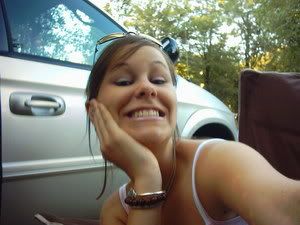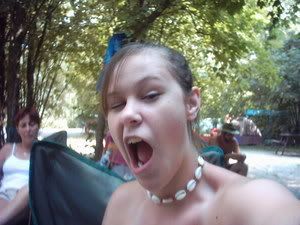 me trying to wink and look sexy haha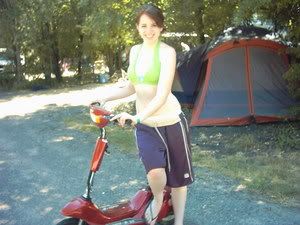 Liz with the Scooter:)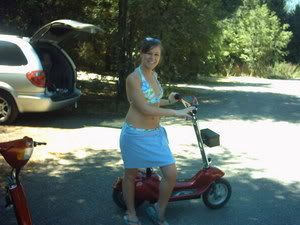 Me on the scooter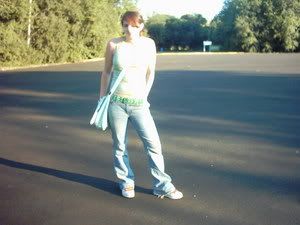 Standing in the parking lot by the bathroom:)


Silly Faces!!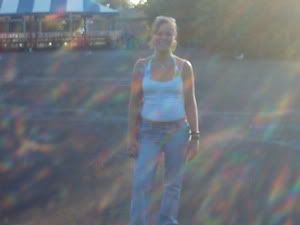 ME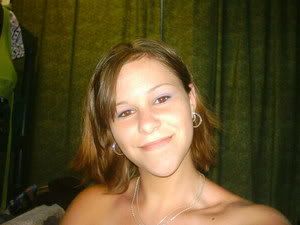 Me using the cam as a Mirror to check out my hair haha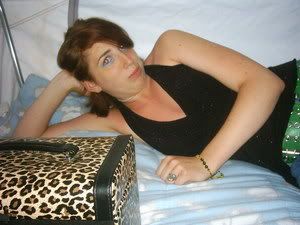 Liz during the big thunder storm:)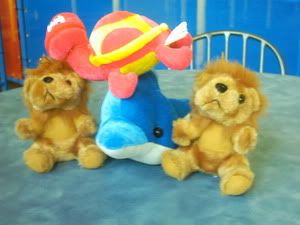 Our stuffed animals we won;)



<3 Amanda:)

current mood:
creative
Thursday, July 7th, 2005
---
12:04 am
- been a long time since i updated
Its been a long time since i updated this thing well i went camping on thrusday at yogi bear it was nothing to exciting i mostly tried to tan didn't really work but it sorta did i got back sunday night mike sleep over i really missed him when i was gone then monday hung out with mike went and seend some fireworks spent the night at his house so that was fun then on tuesday did nothing really mike went to hang out with his friends so i was alone but then we had to go to his sister mandys house i did some scrapbooking for Nicks graduation book so that was fun we talked i learned alot of stuff about his family i never new, so then tonight i did nothing i sat on my ass all day oh wait i went to the Store bought some blonde temp hair dye so me and liz can dye my hair when we go camping that should be fun then i thought me and Mike would hang out since i am leaving for 7 Days but no he was TIRED so i am alone now...but tomorrow he is suppose to come over..w/e doesn't make me feel any better i wanted to tonight. Then ill sit on my ass all day and pack while he is at work and then Saturday around like 11 we are leaving for camping its like a 3 hour drive i hope liz can stand to be in the car with my family that long, i hope i don't get to bad of aniexty when we go i usally do so i feel bad for her for having to deal with me:( i am sorry now Liz lol but we are gonna go to Canadas Wonderland to that will be fun and there is a great flea market there that i can't wait for Liz to go to:) i hope she has a good time. 7 days is a long time with me lol:) hope she knows that! so right now i am like depressed beyond all anything it really sucks! but i did get to talk to Katie and Chris! today so that was WONDERFUL that was really great i was very happy to get to talk to them both i miss Them VERY VERY MUCH!! well i guess ill go whine to my self:) Bye

<3 Amanda

current mood:
depressed
Friday, May 13th, 2005
---
2:44 pm
- This is to hard to handle anymore
The past few weeks have been some of the hardest in my life i never realized how truely happy i was 3 weeks ago, i could not miss those days anymore then i do. I honestly feel like i no what true loniness is. People will either say everything will be okay, or your better off but the truth is in the end you no you dont want better because the best is who you want, and i think in my heart i'm always going to want Mike, i don't think i know i will you never forget your first love and he is mine. I've never prayed to god so hard in my hole life I just wanted everything to be okay, sometimes i think it will be but then my mind snaps back and says your a terriable person and you dont deserve to be happy so you NEVER WILL. The worst part is no one really knows how i feel they say they do but they will never no the torture in my heart, i can't stop thinking about things i should of said or done what i could of prevented. It's nice to no that I do have wonderful friends that will listen, but i can bore then everyday with my thoughts i can't do that to them, so i keep it in my head until it gets all bottled up then i have to let it out with crying and i don't want to cry anymore, it hurts. I can't sleep anymore its like my mind won't shut off no matter how hard i try it just never stops talking. I can acutlly eat now but not as much as i should, i just let my self sit with hunger pains for hours. I just feel so utterly alone and i just wish this pain would go away because its getting so unbareale and im so scared im just so scared. For once in my life i'm all by my self, and i have no clue on how to handle it. I just miss everything so much and i can't go back and its killing me. And i could never move on and if he ever moved on I honestly don't no what i would do with my self the thought of him and another girl makes me so angry and so sad and so many emtions that i believe i would beat the girl so badly she would be in the hospital i would get that upset. I can't control my emtions any more no way its like Yo-Yo and it never stops going i can feel so depressed one minute and then so mad another i just can't get my mind to stop thinking its terriable I honestly don't no how much more i can stand and listen to my self think its getting harder everyday. i thought it would get easier and thats what i tell people but really its just get worse i've learned how to play it off like im okay for the most partbut when im alone i cry all the time. Everyday i feel my heart die a little more you no. I dont except anyone to comment on this truely this is a journal entry that i just needed to write without anyone to reply i just needed to talk i can't hold this in anymore. I just wish this pain i feel would go away! and that i could just be okay and that everything would be okay! WHY DID GOD DO THIS TO ME? I'm sorry for what i did! i truely am please just bring back my life. Please PLEASE. This is to hard God. NO MORE I GIVE UP! Please...

current mood:
depressed
Wednesday, March 30th, 2005
---
7:59 pm
- la la la
I guess i should update this thing..its spring break and im loving it i've spend the last 7 days at mikes:) it was nice i could just get away..from my family at least lol his is worst then mine sometimes though lol poor coco just got declawed and got his balls cut off hes doing good walking a little funny but hes good. and now im just wsaiting for shae to get off work so we can hang out because mike went to hang out with his friends.. i guess we need to hang out with friends once in a while lol i just ate a peanut butter and banana snakwhich it was really good:) i sent a pic to Nikki lol i've been bothering her all day!!:) its been really fun i like to bug her lol shes funny my canadian sister to!i got nothing else to say!!! bye bye

Love Amanda

current mood:
crazy
Wednesday, March 16th, 2005
---
5:24 pm
- 3-16-03
Its like i wait all year just to write those few numbers its very exciting to me!!! 2 years is a long time but i think its been a very happy 2 years and we are still very much in love:) Liz made me the most sweetest card ever it really made my day! and the monkey she gave me was soooo adoreable j'adore it:) Today has been a pretty good day beside mike having to work and me spending this day all alone lol Oh and I named the cat COCO it looks like a COCO i swear:)Well i really thoughti had more to say but i guess not..im going to get a tattoo on monday and going to baby sit tomorrow and thats bout it! should be fun lets see

Love Amanda

3-16-03

I LOVE MICHAEL BRIAN SKOGLUND

current mood:
energetic
Friday, March 11th, 2005
---
8:34 pm
- HELp
What do i name my new kitten hes about 3-6months old hes TINY has white legs and a tiger type fur for the rest of him hes very sweet and playful and i dont no what to name him!! HELP

current mood:
crushed
Wednesday, March 9th, 2005
---
6:32 pm
- 3-16-03
So whats New!? March 9th already! wow March 16th is pulling up fast! 2 years..thats along time but were doing Great:) I feel very lucky to have such a wonderful man like Mike! I just finished segment 2 can you say..never getting my license? Lol i have to wait until my sister buys her self a car:) Im so Lucky and i probably Maybe have about 3 hours of driving in since oooo last year? lol Nikki you'll get yours before me! lol hmmm Im getting a tatto on Monday its a butterfly thats forsure and things by it but i can't decide on which one i really like em both..who knows! i guess it will be a surpise to all the good thing about getting a tattoo on my back is the hair won't grow there no more hahahaha Nikki when i said that comment i didn't mean it harshly i just want you to make the rights desicions in life, I just care and worry about you i dont want you to be none as a whore by any means because your a Really NICE NICE NICE person and fun to be around i just worry about you i just want you to be happy in life i guess lol Anyway I guess im going to go i have nothing better to talk about lol Love you All

Love Amanda

current mood:
chipper
Tuesday, February 15th, 2005
---
6:13 pm
- HITCH
So This weekend was cominghome and Me and Mike went and we had a great time! although he didn't barely move i had fun dancing and singing with my self lol and we had fun after wards just hanging out:) He had a great time. Then yesterday we went to the Movies and seen Hitch It is the Funniest Movie i have ever seen! It was amazing! everyone should go see it it was funny shit! lol and then we went to dinner at sizzleing Sticks which was awesome there food is so good! i love going there with Mike:) it was great. Then after wards we went to mike's house and hung out then he dropped me off so i could work on my mythology project which was gay i didn't relaly try lol and then Tomorrow 2-16-05 is me and mikes 1 year and 11 month ann. which is exciting because its only 1 more month till our 2 year! and im excited for that because im Cheesey like that hehe. He has work tomorrow though so i probably wont see him but my parents are going away this weekend and we have no school so im excited i hope i have a good weekend although i have to work and baby sit it should be fun!:) well anyway i just wanted to update a little bit Love YOu!

Love Amanda

current mood:
chipper
Wednesday, December 15th, 2004
---
5:58 pm
- Merry Christmas and a Happy new Year!!
Yesterday was MIKE'S 17th BIRTHDAY!!! he's so old:) teehee he had a good birthday i think i got him some good stuff and i got the day off so we could spend time together on his birthday!:)He is very wonderful and deserved a wonderful birthday! his mom bought him the sweetest Jordan jersey it was really nice, and she made a great dinner shes a good cook.


Ah i love christmas so much:-d lol its so sweet i get just like a little child:) ahh...

It kinda of sucks never going online..but not really lol because i would only talk to Liz Nikki Katie and..thats it lol I wouldn't have anyone else to talk to hehe, so i guess i don't miss it all that much but i do because i miss those girls alot i hope they are having a good life right now:) my heart is with u ladies.

tomorrow is me and mike's 1 year and 9 months..Yeah we are getting married and i invite you all to our wedding make sure you bring a nice present:) Lol well i have nothing much to say so

I LoVe MiKe

Love Amanda

current mood:
energetic
Wednesday, December 8th, 2004
---
5:09 pm
- Christmas Comes But Once a Year
Now its here now its here!! lol Christmas is almost here!! i get so excited for christmas this year i acutally have MY OWN money to buy people lots of beautfiul presents! i'm so exciting i like to buy people presents more then getting my own i know its crazy lol I like that there is christmas music on to i love christmas music its just so happy and joyce. Well my sister moved back into my house i don't know if its a good or bad things yet..but i really don't care it doesn't seem like she will ever be home much anyway so its not like shes really moved back in its just like she brang all her stuff back lol like her cat Little Boots hes a very very hyper cat way unlike prissy KiKi. MIkes birthday is comming up only 6 more days! Next Tuesday he will be the big 17 im really excited i got him alot of great stuff. I miss my friends alot i hope they all have wonderful christmas's i wonder if katie is going to flordia like she does almost every year? I hope i get to go shopping soon i still have to buy for everyone lol i'm a bad shopper, if i had a car i'm sure i would of go everyone everything already but all well. So i decided that when i turn 18 i'm going to move out right away because i hate my house.. mostly my mother she gets worst and worst everyday but then there are a few days out of the month when shes really nice and i feel bad for hating her the other days but Today i don't i hate the dumb bitch..i wish she would leave me alone, she always thinks i have an attitude but heres the thing i Never Do! when she yells all i say is OK and she freaks out and yells more its like nothing pleases that stupid bitch until she gets to yell. I hate this house more then anything in the world i just want to get out!!!!!!! Ill just move into mikes house he will have an extra room for me to sleep so:) Well I Love Mike and i g2g

Love Amanda

current mood:
blah
Thursday, November 11th, 2004
---
7:23 pm
- wow
Working is really boring just for all you that don't know lol i get very bored at work. I guess i don't really know what to say except i think that i want to move out of my house and never come back i hate my mom more everyday she makes me so pissed off, but Mike always makes me feel better. Well mikes going to be going through a hard time for the next few months so i'm going to try to my extra hardest to be very kind and sweet:_) hes going to be going threw more then any teenager should:( poor kid I Love Him Much:) hes a strong though he'll be okay. hmm i thought i had more to say.. i guess not..

current mood:
lonely
Wednesday, November 3rd, 2004
---
4:19 pm
- Hello Thank you For calling Mr Chicken how may i Help you?
So i never go online sorry guys i always seem to be busy..its odd. So anyway i got a Job at Mr Chicken i make like 6.25 and hour so thats pretty sweet lol I work there with Brittany Henry and Shae and her Mom its pretty fun its hard though since im not used to working. But Since i'm really sick its even harder i feel like i'm dieing i didn't even go to school today. Hmmm Oh I no what i wanted to say Remember when we played Churhill? i just wanted to say we should of won want to know why? for one we are better and they shouldn't of even won the stevenson game everyone thinks so and 2 because the Ref said the feild goal they made wasn't good but then he went back and changed it..and YOU CAN"T DO THAT so for all the churchill fags that think there sweet your not the refs just really sucked:) that made me feel better lol I really miss liz now that we dont have football games i never see her:( CHristmas is coming up soon and im going to have so much money to buy people things my first pay check will be almost 200 bucks! thats so sweet:) I'm excited... I guess i really don't have anything else to say. But i love Michael:)

Love Amanda


she wasn't a Mean Lady you guys are just immature FAGS

current mood:
sick
Tuesday, October 12th, 2004
---
4:22 pm
- hmm
sry i dont update anymore my computer never works so I dont even bother to go on it at all really. Lots has happened on Monday me and mike got into a car accident and totaled the front end of his car so now hes in major det and i feel awful for him he'll never be able to do wreslting at all now even if hes shoulder got better. I spent the weekend at his house and we had a blast and on sunday i hung out with his mom and her friend Linda all day from about 1pm-9pm lol it was alot of fun.
i miss my friends it sucks that we have no classes together.. i just found out from reading liz's journal that her and mike are going out and im really happy for her.. just wish i could tell her how happy i am. I hope you guys no i miss you all. Hope ur having fun and stuff.
I no i say it every time..but i really love mike. Sometimes to scares me to think of what i would do without him. he is my everything .. i just wish he understand how much i value everything he does for me.

I love Mike

and all my Friends

Amanda

current mood:
bitchy
Tuesday, September 28th, 2004
---
2:53 pm
- A Sparned Weekend
So last weekend was cool, because had to go camping ( not cool because i HAD to go) cool because i got to bring liz, and even though my stupid mom brang us nothing to do we still sorta had fun i hope lol we just relaxed, but we did have a few laughs, acutally one night with luahgs that hurt lol she took sweet pictures that hopefully u can see in her journal:-D there are some good ones lol.

So yesterday at football practice mike dislocated his shoulder and had to go to the hospital and all this bad stuff and he has to wear a sling and hes hurtin and i feel really bad for him:( so that means we arn't going to Homecoming because its not like we can really dance i mean his arm is over his tummy it just wouldn't work. So yeah im kinda sad because i was really looking foward to it. But i just wnat my mikey to get better poor thing:( hes so strong.

So this weekend im gonna be sitting around, mikes still gonna call off work but i dont no what we are going to do.

Love Amanda

current mood:
satisfied
Thursday, September 23rd, 2004
---
3:16 pm
- Im Bored
Schools been borin, my classes are really easy so its boring lol. I've had a good week though i've been working out every day for the past 3 weeks i think its doing me good im gonna have big arms when im done and a nice tummy lol im sick of been chubby. Im watching a movie on oxygen right now its so sad stupid sad movies. Today im going to Mikes game at W.L.W should be fun i get to sit with his mom and Danny it will be different. Anyway tomorrow im leaving for camping and Liz is comming with me shes never been with me before so i thought it would be fun if i brang her plus without her i will be so bored. I mean really bored Lol. Right now im just thinking about something...Jenny wrote in her Journal that i didn't try or w/e bs.. You no i called her when i said i did..but its not my fault she didn't pick up, or call back. and i called her to Visit her the other day its not my fault she was sleepy and she called me back like 5 hours later and i felt bad because she was sick so i told her i'd talk to her later. I shouldn't be the only one trying...But w/e Im not gonna let it bug me to much lol I Love mike he makes me so happy that poor kid goes threw heck and back.. i just want to make him happy...that poor thing. well im done im gonna sit and be bored.

Love Amanda

current mood:
weird
Sunday, September 19th, 2004
---
5:43 pm
- Great Weekend
School went by so fast this week, it was nice, it wasn't as bad as i thought the first full week of school would be, we've only been back for a few weeks but it already seems like forever and im already used to it. On friday me and liz went to the varsity game together we mad mike a sweet sign:) but we only got to hold it up once he didn't place because of his ankle i was real pissed, the game was fun for the most part, but next time i think i'll sit with Mike's parents...Then on saturday i hung out with mike in the morning we did alot of things for his mom which was okay it was boring though lol but we had fun, then me and katie and liz went to nikkis modling thing and we missed it who new itwas only like 12 mins long thats not our faults lol but her dress was really pretty:), then after that we walked around and bought cap guns which were really sweet:) then i hung out at liz's with her it was fun we had a great time we went to 711 got slurpees, after that we sat around and talked about alot of stuff which was good i miss her, i hope we are friends forever and ever, i think me and her could really make it, then mike picked me up later on and we went to his house and slept i like his bed its very comfortable, then this morning he took me home while he went to work, i sat around i was really bored for a long time. Then he came back over and we went to wendys which was good and then to gags and gifts which was fun, we had a great day today, and now hes at football so im all alone because my parents went on my aunt and uncles boat.. i dont like boats they freak me out lol. PLus i had to type my paper for comp, its called the letter i think its pretty good if i do say so my self its a good short story:). I decided that Chris bugs me, he's really just a big ol fag and I dont really care who knows it hes got really big issues! So anyway 2 weeks it will be homecomming im kinda of excited my dress is nice i guess.. i just feel so fat.. i wish i could be like 85 pounds i think i'd feel better about my self lol i dont want to be fat:( Im really excited for liz shes gonna have a great time this year with Mike hes a cool kid i hope they have a great time together:) katie wont have a good time sorry katie. I tried to call jenny this weekend to i tried calling her during the week as well but no answer and this weekend she was sleeping and sick so i just told her i'd talk to her later, i tried. I"m really bored. I took all my pictures of erin and put them in a box and all the papers and stuff she gave me to i intend to throw them away when i get the chance, that part of my life is done forever and i dont miss it at all, I have mike and i guess thats all i need, and of course my few friends that mean the world to me. You know i'd rather have a few really good friends, then a bunch of people that just pretend to like to be cool. Im good with my hand full lol I could have a million friends older and younger, and be a big cheerleader, i could be one of them flyers, and i could be really friendly to everyone i meet and be friends with everyone, and make sure that everyone likes me...but thats just not me.. i'd hate to be fake like that. There is no one in the world thats THAT NICE, i dont care what anyone says. I'm so bored i got nothing to do for hours:(
I Love Michael 3-16-03 Year and a Half and still going strong, thats amazing lol

AManda

current mood:
thirsty